Dental Services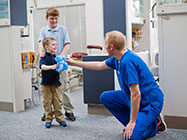 Preventive Dentistry
Our initial focus is on prevention through regular cleanings and exams, sealants, and fluoride treatments. Periodic dental visits are imperative to maintain gum, tooth, and bone health as well as detect the early stages of cavities and oral cancer.
Filling Restorations (Operative Dentistry)
Defects in teeth can be caused by cavities, malformations, discolorations, or fractures. We offer three types of materials to repair these defects: Composite (tooth-colored), Amalgam (silver), or Gold.
Implant Restorations
When a tooth is lost, an implant is a wonderful screw-like replacement similar to a real tooth. We provide for the restoration of implants placed by oral surgeons or periodontists with implant supported crowns, bridges or dentures. Implants are especially important for patients who are missing posterior teeth or have mobile dentures.
Crowns and Bridges (Fixed Prosthodontics)
Crowns, onlays, veneers, and bridges are used to repair teeth with major structural or esthetic defects. Teeth are prepared in the office and impressions are taken and sent to a laboratory. After a short fabrication time while the patient wears a temporary restoration, the final product is ready for placement. We offer several materials for crowns and bridges which are selected on an individual basis.
Root Canals (Endodontics)
When an abscess forms or a tooth suffers from a deep cavity or trauma, endodontic therapy often becomes necessary. The nerve of the tooth is removed and medicaments are placed inside the tooth before it is filled and sealed.
Full and Partial Dentures (Removable Prosthodontics)
A removable appliance can be fabricated when patients are missing some or all of their teeth and cannot have a bridge, implant, or other fixed appliance. We create highly customized complete dentures for the edentulous patient and partial dentures for the patient missing one or more teeth.
Emergency Treatment
We will do everything possible to treat emergencies promptly and minimize discomfort. If an emergency occurs after regular office hours, staff can be reached by calling the office and following the recorded instructions.
Extractions (Oral Surgery or Exodontia)
We are in the tooth saving business, not the tooth losing business. Sometimes due to periodontal disease, deep fractures, large cavities, or financial constraints a tooth must be extracted.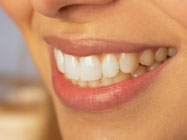 Cosmetic Dentistry
Subtle changes to the teeth can make a big difference in a smile and in a person's self confidence. Discolored, chipped, or misshapen teeth or even irregular spacing can often be remedied with cosmetic dental improvements. Modern materials and the newest technologies allow many options for smile enhancement.
Bonding and/or Enamel Shaping may be used to quickly improve teeth that are chipped, broken, stained, or have spaces between them. In bonding, tooth-colored material is bonded to the tooth surface and then shaped and polished to maximize appearance.
Veneers are thin, custom covers made of tooth-colored materials and designed to fit over the front side of teeth with minimal removal of tooth structure. Veneers may be used to improve irregular spacing, undersized or poorly shaped teeth, chipped or worn areas, or slightly crooked teeth.
Tooth Whitenening (Bleaching) lightens and brightens teeth that have become discolored or stained by foods, tobacco, or aging. We offer three different methods of whitening. Custom made take-home trays offer progressive whitening over a one to two week period. We also have a take and go product available for immediate use at home. Power bleaching uses a strong bleaching material to offer whitening in the office in about an hour.
Treatment of Gum Disease
When periodontal disease has progressed to the point were bone loss is present around teeth, advanced cleaning techniques, including scaling and root planning, are necessary to halt the progression of disease. Following periodontal treatment, patients require a more thorough check-up process known as periodontal maintenance to prevent progression of periodontal disease.
TMJ/TMD
Symptoms of temporomandibular disorders (TMD) are varied and can include muscle soreness, pain, headaches, ringing in the ears, clenching or grinding of teeth, or clicking and popping of the jaw. The treatment for TMD often depends on the cause and ranges from simple bite repositioning appliances to advanced surgical procedures performed by specialists.
Sleep Apnea Devices
A disruption in breathing while sleeping can cause a bad night's sleep. The most common type of sleep apnea, obstructive sleep apnea, is often caused by a constricted airway, obesity, or incorrect muscle positioning. Obstructive sleep apnea may be treated with a jaw repositioning device made by a dentist. In complicated cases of sleep apnea, treatment often requires a team approach involving a sleep specialist, a physician, and the dentist.
Custom Athletic Mouth Guards
A variety of sports and youth activities put teeth at risk for traumatic injury. A custom mouth guard made by a dentist offers superior protection and comfort compared to an over the counter mouth piece. An impression is taken and a mouth guard is customized for the teeth.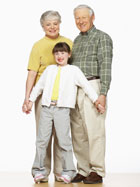 Children's Dental Care (Pediatric Dentistry)
Early dental education helps children develop good dental habits that will last a lifetime. It is our goal for each child to have a comfortable and positive experience from the very beginning of their first visit to the dental office. Regular cleanings, checkups, and fluoride treatments for children are very important. With periodic visits that start between ages one and two, we hope to prevent most dental problems. Parents need to be in the office during a child's dental appointment and are welcome in the operatory, with the child, if desired.
Geriatric Dental Care
Older patients require special care due to changes the body undergoes with aging and because they are often taking multiple medications which affect their oral health. An updated list of medications is necessary for treatment. Special considerations are allowed for appointment time, patient positioning, family consultation, and medical or physical needs.
General dentists do not have the extra training necessary to be Licensed as Specialists in the areas of endodontics (root canals), oral surgery, periodontics (gum disease), prosthodontics (dentures and removable or fixed appliances), pediatric dentistry (for children) , orthodontics (braces), or pathology. However, general dentists are trained extensively in these areas of dentistry and are qualified to provide many services in the areas listed. Cosmetic, Family, and Implant dentistry are non-specialty interest areas that do not require specific educational training to advertise.